Graphic design, put simply, is communicating an idea using attractive and stimulating art.  It's a way of taking something cold and calculated (like a computer) and using it to create something warm an inviting for your customer.  
One of the benefits of working with my firm is that you get the best of both worlds
: you get someone well-versed in the "hard coding" that goes on behind the scenes and someone who knows the creative end and can make the who package look great.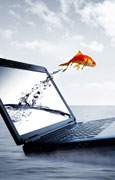 We specialize in the latest Adobe products (Photoshop for digital imaging, Illustrator for logos/vector graphics, InDesign for publications, Dreamweaver for webpages, Flash for interactive graphics) and also 3D modeling software (Autodesk 3DS Max and Maya).  We can create anything from business cards to posters, 2D cartoons to 3D product mockups, logos to t-shirts, photo-retouch to special effects.  You want it done?  We'll do it.
Where do we start? It all starts with a free, no-obligation consultation. We need to know what you want your site to do and then we make it happen. We create a solid layout that is customer-focused and visually stunning, then back it up with custom web "coding" that makes the site run well and run quickly.
Contact us today for your free, no-obligation proposal!

Brochure
Design: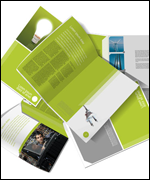 One of the most cost-effective ways to advertise your business and "spread the word" about the quality services that you provide is a brochure campaign.  Much more efficient than television or radio advertising, a simple, well-designed brochure can reach a wide variety of clients and act as a "salesman" without you even needing to be there.  The trick is to make it catchy and attractive, and that's what we do!

Logo
Design: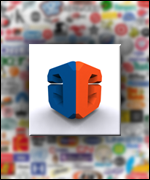 A logo, put simply, is a symbol that tells the entire story of your business and your mission.  That's quite a bit of pressure for one little picture!  Creating a logo is a fun process but it also requires quite a bit of planning to make sure that it's going to be something that stays with you and grows with your business.  We create logos with a program called "Illustrator" which allows you to expand or shrink your logo as large or as small as you want and not lose any quality.  Ask us for an example!


Fliers and
Invitations: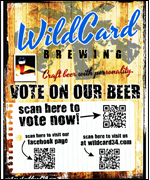 An event is only as good as the media used to advertise it.  If you don't have anyone show up for it, you wouldn't consider it a success, right?  We'll meet with you and get all the information about your event that we can to make sure that your advertisement is attractive and effective.

Photo Correction
and Retouching: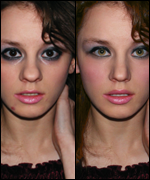 Maybe it's the last photo you have of Grandpa and it's wrinkled.  Maybe it's the only picture that you took at your daughter's recital and it came out too dark.  Maybe you have a picture of a loved one that you want to frame and give as a gift.  Whatever you want, we can do!  From adding special effects to sharpening the image, we can intensify your picture or make it softer and more gentle.


Marketing and
Branding: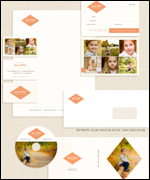 When you want to make a professional impact, all your efforts have to work in unison: you have to have a website that matches your letterhead, which matches your business cards, which matches the logo on the side of your vehicle.  We have the professional business knowledge it takes to figure out what your business's message is and how to effectively convey that across a variety of different media.


Image
Remodeling: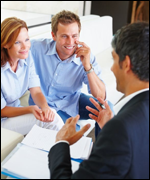 Sometimes, your image and message is so confusing, it's best to just start fresh.  Turning a new page in your artistic "book" and creating on a blank canvas is often less confusing to your customer and less expensive for you as a business owner!  We act as consultants, coming in and evaluating your current presentation and recommending a variety of actions.