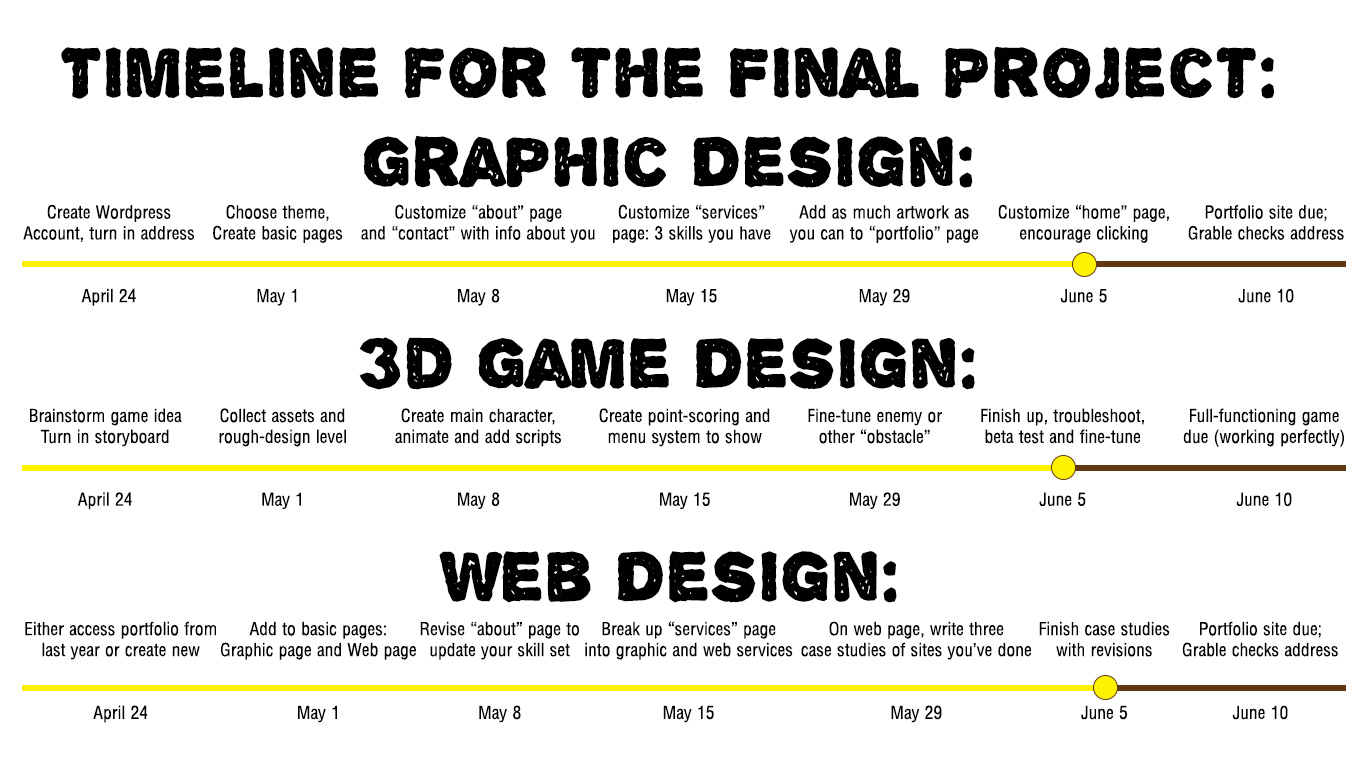 Looking to install programs on your own personal Chromebook?
The problem is that it doesn't have a compatible operating system.  You'll need to install one, called "Linux".  Here's how to do that (note, it doesn't work on the school's laptops):
After you've installed Linux, you can follow the instructions on how to install the program you're looking for on Linux.  For example, here's how to install Unity and here's how to install Creative Cloud apps.
Virtual Classroom Updates:
Here's the plan: check your email for messages, check the Virtual Classroom links on your schedule for frequent lesson videos, check Classroom for assignments.  You can contact me through email or (by appointment) can reach me via video chat.
Do you need a Chromebook? Contact me and I'll contact the school to see when the next date to pick one up is.
Do you need internet?  Call 855-846-8376 for free access and equipment.
As of right now, we're planning on being closed "indefinitely".  This means that unless the situation changes dramatically, we'll be out for the rest of the school year.
As teachers, we are expected to continue meeting with students (via phone or computer) and to continue to teach to the best of our abilities.  We are able to grade items and enter them into Aeries, and students who were failing our classes before the "break" who are completing at least 60% of the "distance learning" work may be able to get a passing grade!
As students, you're expected to continue making an effort to stay on a productive schedule, organize your classes, work on what you can, and stay involved.
For Graphic Design students, we've been able to get you the Creative Cloud Software at home, which is a HUGE help for most people.  Unfortunately, it only has limited functionality on Chromebooks (see this link for more information).  The instructions on how to download and install that is on our Graphic Design Virtual Classroom (link is on the schedule)
For 3d Game Design students, you have the software downloads at Unity and Autodesk you need to complete your assignments.  If you don't have Unity, you can use an online game creator like http://flowlab.io/ to create your game.  Here's a tutorial if you've never used Flowlab before.
For Web Design students, you have access to email and online WordPress to be able to complete your assignments.
For all students, if you need anything from the classroom, we've been locked out of our classrooms.  Just make do with what you have.
My daily schedule:
0700-0800: Work out.  Gotta keep the brain sharp!
0800-0900: Breakfast and get ready for the day
0900-1000: School-wide or departmental staff meeting
1000-1100: Web Design office hours
1100-1200: Graphic Design office hours
1200-1300: Lunch
1300-1400: 3d Game Design office hours
1400-1500: Record lesson for the next day.  You can suggest things I should include here.
1500-1700: Answer emails, plan for the next day.
After 1700: Family time, eat dinner, evening walk, 8 hours sleep
---
El Camino High School's Digital Arts Media Academy is a series of career technical education (CTE) classes that focus on digital media arts.  The program features graphic design (marketing and advertising through images that have been digitally produced and enhanced), web design (production of online content aimed at selling or promoting products or services), and video game design (creation/animation of three-dimensional objects and 2d/3d games).
---
Grading policy:
Each assignment has clear expectations and a defined due date.  If the student does not turn in the assignment by that date, the highest possible grade that you could get on that assignment goes down one letter grade (10%) each business day.  If a student has excused absences for days that we worked on the project in class, they have that many days to make up the assignment with no penalty.
If you simply don't hand in an assignment, that "red spot" shows up on your grade report.  If you do make up an assignment, that red spot goes away but you are subject to the score depreciation mentioned in the previous paragraph.
If you are missing an assignment and believe that you already completed it, it is your responsibility to contact me via email (aaron@grablegraphics.com) to get that fixed.
 Google Classroom: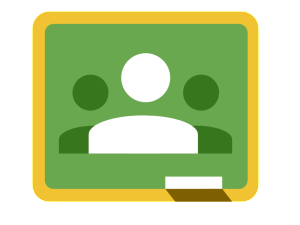 Google classroom is a useful tool for organizing your classes, viewing your assignments, interacting with each other and the teacher and turning in your work digitally.  The district gives you unlimited space on their Google Drive but that goes away after your senior year.  At that time, you'll need to find a way to migrate your information to your own Google Drive if you want to keep it.
This is the process for working with Google Classroom:
Make sure you're logged in to your school Google Drive.
Click on the green Google Classroom icon above or click here
Sign in, using your school email (your permanent ID plus "@oside.us")
Your password is your eight-digit birthdate
Sign up for classes using the codes I give you
Use this portal to view, complete and turn in assignments
Note: If you don't plan on checking your district email (yourstudentid@oside.us), you should set it up so those emails forward to your personal account.  For more info on that, go to this link and follow the instructions on "how to forward all new emails".
Animation for your Monday:
Schedule for Web Design:

(year-to-date schedule here, district schedule here)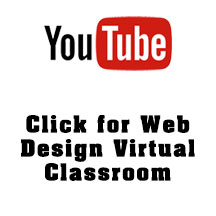 Virtual Classroom Playlist is here.
Our push this month is going to be to create your end-of-year portfolio.
If you haven't taken my Graphic Design class, you're going to need to create your portfolio.  To do that, take a look at this video:
If you have already taken Graphic Design, you have a portfolio.  If you don't remember the address, go to WordPress.com and try and log in.  You should be able to get in and find the address.
This week's goal: start working on your "web design" page
A very common question people ask me when determining if they want to hire me or not is "what are some examples of your work?"  Now, you can easily show someone an image of the website you've been working on but without an explanation, they can't really get a feel for what you've done for the business.
That's where the case study comes into play.  It's a story about what the website was like before you started, what you figured out that it needed, what you implemented, and what happened as a result.  It's very effective when done right but also can be confusing and a waste of time if done incorrectly.
To do by Friday, 5/29:
You can learn about what a case study is here.  On your "web design" page, I want to see all three case studies.  The template for completing the case study is here but don't leave my text prompts in there.  Use my suggestions and structure to write yours and put it on your page.
Remember, all I do is just go to your website and check it out.  To turn in this assignment and let me know your website is ready to be reviewed, go to the assignment on Google Classroom and click on "submit".
Resources:
---
Schedule for Graphic Design:
(year-to-date schedule here, district schedule here)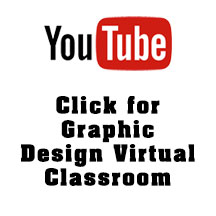 Virtual Classroom Playlist is here.
Our main push right now is to get you started on your final portfolio.  It's important to note that this is going to be a formal, professional portfolio that you can use and be proud of for years to come.
Goal for this week: Finish your "gallery" page.  Remember, if you need files from you computer at school, you need to ask for them!
How to create your "gallery" page:
To do by Friday, 5/29:
I would like for you to have your gallery page published and finished.  I would like to see at least a few pieces of your artwork but try and not use more than 15 items.
I realize that some people don't have all the files they had access to while they were at school, but there's a really simple solution for that.  Please email me with your student number and I'll ask our computer tech at school to get those files for you.
Remember, you have to publish your site and give me your address for me to be able to see it!  Click on the link above to get to our "Virtual Classroom" and there's a video called "Make site live" that shows you how to do this.
Resources:
---
Schedule for 3d Animation and Game Design:
(year-to-date schedule here, district schedule here)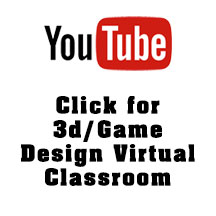 Tutorial for shmup is here.  Tutorial for "Roll a Ball" is here for videos and here for transcript.
Virtual Classroom Playlist is here. 
The big push between now and the end of the year is to create your final game.  Normally, this game is our big "group" activity, but it's going to have to be independent.
See this folder for all the details.
Goal for this week: Finish gameplay and fine-tune enemy reaction
This week is going to be all about the obstacle you have to go through to successfully beat the game (if that's even possible).  Do you need help getting your enemies to chase you?  Do you need help figuring out how to assign your enemy health?  What are some things you need to get done before you can play your game?  Those are things we need to focus on now.
I'm going to be putting a variety of videos on our "virtual classroom" playlist, so check that often.  If you need help with a particular script or skill, let me know and I'll get you help.
To do by Friday 5/29:
I want to see your progress.  You can do this by using a screen capture software (i.e. Screencastify or Quicktime) or by using the camera on your phone to take a video of your screen.  While you're capturing a video of your screen, show me:
What your enemy or obstacle looks like: what do you have to go through to get to a successful ending?
What do you have to do to get past that obstacle?  Show me some gameplay
How are you tracking progress?  How are you tracking your health and the enemy's health?
What are some problems you're running into and what can I do to help?
Turn that in as some type of video file through Google Classroom.  I want you to do this so (a) I can make sure you're progressing well and (b) that you are getting the help you need.
Roll-a-Ball tutorials:
Resources:
Videos for midterm: